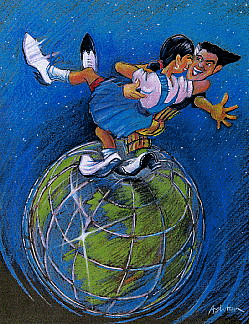 HOPPIN' ALL OVER THE WORLD
JUMP JIVE CARDIFF
Greetings Cards
By Stuart Ashton.
Available on request.






That, in a nutshell sums up our attitude to this Dance Teaching 'Thing'. Gill and I have been running workshops for about 4 years now. I started, back in 97, by putting on a few sessions for friends. It just snowballed from there. South Wales has a strong following in Rock'n'Roll, and Cardiff is no exception. My first intro to partner dance was through Modern Jive, American R&R and then into the Lindy Hop.

The Swing Jive format that we teach grew out of our experience in these styles. We simply 'Pick & Mixed' the most accessible moves and created an enjoyable, and very successful style. Swing Dancers in Cardiff had been doing it for years anyway.
Our Swing Jive is a great intro level to The Lindy Hop, simply because that is the way we learned.

We have NO Medals, we have No Trophys. Dance Titles ?
Nope, not even spurious made up ones.
But, we do have some of the hottest dancers around.
Wonder Where they came from ?

Lesson Two.
Smiling is a compulsory dance move.
Laughing gains you 3 extra brownie points.






Office hours:
10-6pm Weekdays.

Phone Number:
029 2059 2193
E-mail:
Jumpjive@tesco.net